Nov 30, 2023 at 7:30 pm
UNDO Spotlight: A Showcase of Supported Projects
With Jessica Bardsley, Caveh Zahedi, Caroline Key, Catalina Alvarez, Mark Mori, A.S.M Kobayashi, Abigail Raphael Collins, Nathan Kensinger & Nate Dorr
UnionDocs
352 Onderdonk Ave
Ridgewood, NY
UnionDocs is thrilled to invite you to a night celebrating the incredible artists supported by our Fiscal Sponsorship program! Come through and tune into a special showcase of work with the following artists in attendance: Jessica Bardsley, Caroline Key, Mark Mori, Catalina Alvarez,  A.S.M Kobayashi, Abigail Raphael Collins, Nathan Kensinger and Nate Dorr!
Their work spans rich conceptual terrains – from an ode to nocturnal life, contemporary classroom power dynamics, creative interventions into changing natural landscapes, legacies of South Korea's postcolonial modernization, a multilingual travel-series, the power relationship between Starbucks owners and workers, and a creative transformation of a family's WWII internment file, this night has much to offer!
This is a free community event. Come through and toast these pioneering artists and their budding projects!
THE CAVE WITHOUT A NAME by Jessica Bardsley
THE CAVE WITHOUT A NAME is an ode to night and nocturnal life. Amidst the unceasing demands of 24/7 capitalism, this essay film explores how night can offer resources for resistance and healing. THE CAVE WITHOUT A NAME brings together a range of subjects, from an astronomer working against light pollution; to a punk band's anti-capitalist anthems; nightscapes of a "dark sky park"; a dream guide; and the evening emergence of more than 15 million bats from Bracken Cave, the largest mammal colony in the world. Together, these night creatures and dedicated dreamers offer generative and life-giving possibilities amidst a seemingly foreclosed present.
Higher Education by Caveh Zahedi
Higher Education explores contemporary classroom power dynamics, white privilege, and gender bias in a film production course at the New School in New York City. The students are tasked with filming each class and recording confessionals in which they discuss what happened each week. The resulting film becomes a portrait of the political and ideological preconceptions of a generation that is no longer Millenial but not yet Gen Z.
Wetland Shadows by Nathan Kensinger and Nate Dorr
Wetland Shadows is a site specific public art project and documentary film created by Nathan Kensinger and Nate Dorr. It illuminates the transformation of the waterfront of Hunter's Point, Queens over the past century, through waves of industry and wildness. The filmmakers have creatively engaged this changing landscape for the past nine years, documenting artistic interventions, the demolition of a 50-year-old forest, and the construction of a new wetland habitat. They are now projecting images of the waterfront's past onto its newest towers and seawalls.
Fascinating Vacations by Caroline Key
Fascinating Vacations is a nonfiction film chronicling three defining events from the life of KEY Joon Wan, the filmmaker's father, to reflect upon the complicated legacies of South Korea's postcolonial modernization and its continued entanglements with the US.
Modos de Transporte by Catalina Alvarez
Modos de Transporte (in-progress) is a multilingual travel-series. In the episode, "Bois du Rose" the host takes a high speed rail train from Paris to Bordeaux and there discovers the studio of Jose Le Piez, builder of "abrassons," a type of friction drum sculpted from trees that sings with the simple caress of a hand. In fact, this instrument has a sonic ancestor called the livitika, which comes from the island of New Ireland in Papua New Guinea, though there are no remaining indigenous elders trained to play it. As if possessed by these tree sounds, the travelog dissolves into an abstract film of long takes and slow sounds.
The Baristas vs The Billionaire by Mark Mori
The Baristas vs The Billionaire, directed by Academy Award nominee Mark Mori, investigates the power relationship between Starbucks owners and workers. Sparked by outrageous treatment by employers during the Covid-19 pandemic, a new labor movement is emerging among young people, marking a 40-year tipping point in modern American history. America's disappearing middle class has had enough and is standing up to fight for its future.
Electric Neon Clock by A.S.M. Kobayashi
Kobayashi transforms her family's WWII internment file into a live documentary interweaving archival material, video, sound and immersive performance.
Sounding Queer Silence: Dorothy Arzner by Abigail Raphael Collins
Sounding Queer Silence: Dorothy Arzner, is the first of four videos in a series about queer women filmmakers working during the transition from silent to sound films. The project attends to gaps in the archives of these filmmakers by listening to what could not be said at the time, and working with the silences in queer film history as well as the technological advances in sound that changed their work. Beginning with Arzner, who is fabled to have invented the boom mic by lashing a microphone to a fishing rod, the videos engage the relationships between materiality and movement that shape the sound of queer history.
Watch the conversation between Presenter1, Presenter2 and Presenter 3 on the UnionDocs' Membership hub.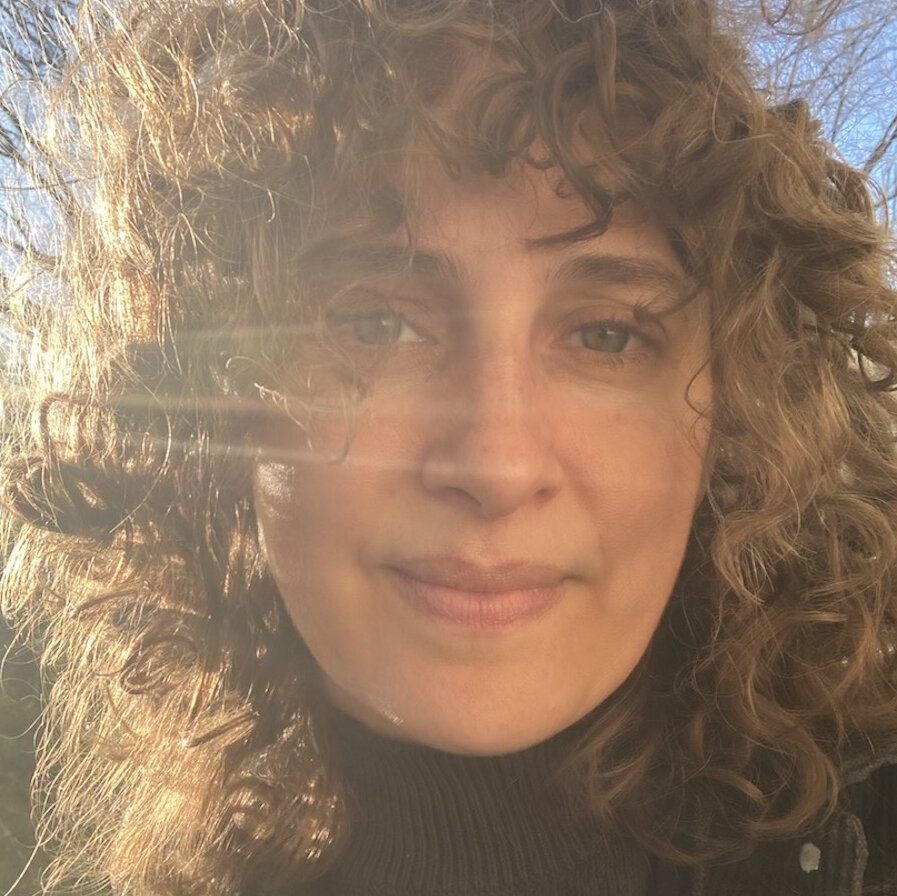 Jessica Bardsley is an artist-scholar working across film, writing, and studio art. Her films have screened within the U.S. and internationally at festivals like CPH:DOX, Sundance, Visions du Réel, EMAF, RIDM, True/False, and on the Criterion Channel. She is the recipient of various awards, including a Princess Grace Award, Grand Prize at 25FPS, the Eileen Maitland Award at the Ann Arbor Film Festival, Best Short Film at Punto de Vista, and numerous Harvard Film Study Center fellowships. Her first feature film, The Cave Without a Name, was a finalist for the 2023 Venice Biennale's Cinema College. She received a Ph.D. in Film and Visual Studies from Harvard University and an M.F.A. from the School of the Art Institute of Chicago. She is Assistant Professor of Undergraduate Film and Television at NYU's Tisch School of the Arts.
Caveh Zahedi is an autobiographical filmmaker whose feature-length films include The Sheik and I (2012), I Am A Sex Addict (2005), In The Bathtub of the World (2001), I Don't Hate Las Vegas Anymore (1994), and A Little Stiff (1991). He is also the writer/director of the web series The Show About the Show as well as the writer and host of the podcast 365 Stories I Want To Tell You Before We Both Die.
Nathan Kensinger and Nate Dorr have been collaboratively documenting the changing landscape of New York City since 2006, through a series of photo essays, public art projects, and documentary films. Their work explores endangered coastlines, post-industrial relics, and rapidly redeveloping neighborhoods, and has been exhibited and screened internationally at museums, film festivals, and galleries. In 2021, they were selected for Filmmaker Magazine's annual list of "25 New Faces In Film" for their films about climate change. Their new project Wetland Shadows is a site specific public art project and documentary film, exploring the history of Hunter's Point, Queens.
Caroline Key is a nonfiction film and video artist whose work incorporates a range of cinematic practices– 16mm film, alchemical film processing, documentary, animation, and digital manipulation. In subjects ranging from her family and historical memory to gendered labor and the medicalization of women's bodies, Caroline's films investigate the construction and negotiation of subjectivities rooted in conditions of alterity. Drawing from postcolonial and feminist perspectives, they call attention to the invisible paradigms of sex, race, history and power that permeate both the sensational and the mundane, the normal and the pathological.
Catalina Alvarez incorporates physical theater and social issues into films, expanded cinema and virtual reality projects. Her films have screened at festivals including Slamdance, Fantastic Fest, New Orleans and Palm Springs, and venues such as the ICA Philadelphia, the San Diego Art Institute and the Museum of the Moving Image. She is a recipient of fellowships and residencies from the Flaherty Seminar, the Virginia Center for the Creative Arts, Rooftop Films, Flux Factory and the Wexner Center for the Arts. Catalina grew up in a bilingual (Spanish and English) household. She teaches in the Visual Arts program at Fordham University, where she is head of Art & Engagement.
Mark Mori is an Academy award nominated documentary filmmaker, an Emmy Award winning non-fiction television producer and President of Single Spark Pictures. His films have garnered awards, film festival screenings, theatrical, TV and digital distribution worldwide. Mori has produced, written and directed documentary and reality series and specials for Fox TV, HBO, Showtime, BBC, PBS, Frontline, MTV, Discovery, A&E, Bravo, MSNBC, National Geographic Channel, Investigation Discovery, Animal Planet, ZDF and others. Mark is past chair of the Non-Fiction and Documentary Committee, Producers Guild of America, East.
A.S.M. Kobayashi is a Canadian interdisciplinary artist who mixes documentary and fiction in her videos, performances, installations and illustrations. Her performance Say Something Bunny! received critical acclaim heralded as "The best new theater experience in town" by Vogue, was a NYTimes critics' pick and received nominations from the Drama Desk and United Solo award. Kobayashi's videos have been exhibited internationally at museums and festivals. She is a Yaddo and MacDowell Colony fellow, and was a guest artist at the Flaherty Seminar. She is currently based in NYC where she is the director of special projects at UnionDocs.
Abigail Raphael Collins (b. New York) is an interdisciplinary artist using experimental documentary and video installation to consider relationships between intergenerational transmission and sound through a queer feminist lens. Recent exhibitions have been at the Herbert F. Johnson Museum of Art, Los Angeles Municipal Art Gallery, Pasadena Armory, Angels Gate Cultural Center, and Torrance Art Museum. She received a BFA from Cooper Union and an MFA from UCLA. She currently teaches in the Photo Media program at CalArts.