We are thrilled to welcome a new cohort of 13 media artists to our 2020 Collaborative Studio! This year's participants come from Estonia, Australia, Argentina, Brazil, Portugal, India, and the U.S., and we are looking forward to working with them for the next 10 months.
The UnionDocs Collaborative Studio (CoLAB) is a 10-month program for a select group of media artists from the US and abroad, which offers a platform for exploring contemporary approaches to the documentary arts and a process for developing an innovative collaborative project. The program consists of weekly production meetings, seminars, screenings and other public programs, along with regular masterclasses and critiques with visiting artists.
2020 Collaborative Studio: 
Hobe Ilus was born in Estonia,1989. After achieving BA in Literature, she decided to travel and live abroad, which guided her to many odd-jobs and cross-cultural experiences. The idea to study documentary was taking shape. She graduated Documentary Master's in Tallinn at BFM in 2018. Having experienced life from unfamiliar angles, she has learned she can never escape her roots nor the urge to create. Her interest lies in people. Her film language is poetic, minimalistic yet rich in detail.
Hilo Mur is a Sudanese visual artist and educator based in Boon Wurrung Country (Australia). They use the practice of image making to articulate the everyday poetics and politics of bodies at the margins of margins. Hilo Mur works across projection art, the moving image and photography.
Thanh Hang Pham is a maker of words and sounds through audio, zines and poetry. They grew up in Narrm/Melbourne. They have produced queer and feminist radio at 3CR Community Radio and have produced podcasts for festivals and community organisations. In 2019 they were commissioned by the Emerging Writers Festival to produce 2222: a site-specific sound installation for the the State Library Victoria. Their work 'Sound Bodies' is a multi-sensory audio workshop that has ran in Melbourne and Los Angeles. They freelance in audio and podcast production; has produced radio documentaries 27 (2018), Remotely Intimate (2016) and We Weren't Born Yesterday (2015). Their practice is intuitive and is driven by care, embodied listening, conversations and honest acts of making.
Milton Secchi was born in 1988 in Santa Fe, Argentina. He finished his studies at ENERC (National School of Experimentation and Filmmaking), in 2009. He has made several short films, that have been screened in national and international festivals. He is interested in the field between film, archive and visual arts, with a particular interest in the crossing of the intimate, the social and the everyday life.
Oliver Shahery is an Iranian American filmmaker based in Brooklyn, NY. He makes tough, character-driven films that embrace all sides of humanity. He hopes to present his subjects exactly as they are and let viewers form opinions of their own. To Oliver, no one, both in life and in moves, is neither 'good' nor 'bad.' Everyone is somewhere in the middle.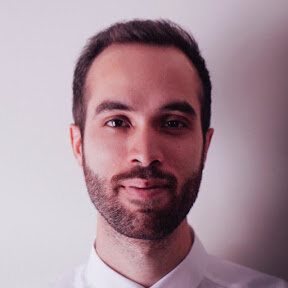 Amir Shams was born in Brazil. After studying Architecture and Urban Planning at Escola da Cidade, São Paulo, he went on to graduate in Filmmaking from Syracuse University, NY. He has worked in film, photography and design. His work has been shown in places such as Cannes Film Festival, Everson Museum of Art, and in public and private schools. He spends his time between Americana – his hometown in Brazil – and New York City. He is currently writing and developing his first feature film and producing two short films.
Lindsay Skedgell is a documentary filmmaker, photographer, and storyteller with a background in anthropology, whose work explores individual perspective and history. She has worked with traveling carnies, artisans and healers in the Amazon, female boxers, the houseless community, and believes in the power that storytelling holds. Lindsay has been a teaching artist and educator for four years, working to teach and empower individuals from 10 years of age to 90, to tell their own stories. She has been running BRIC's Youth Media Film Festival for the past two years, working alongside a group of high school students to produce and curate a festival that highlights the importance of youth voices. Lindsay has had films screened throughout New York City, including at the Margaret Mead Film Festival, and was nominated for a 2019 Emmy for her film, The Incredible, Edible Landscapes of Angelica Negron. She is ever fascinated and inspired by myths, microcosms, and the power of the human heart.
Catarina de Sousa is a filmmaker, activist journalist, cinema and visual arts producer. Born in Póvoa de Varzim, Portugal, she has been living between Lisbon and São Paulo since 2011. She carried out projects of social and political nature in a Direct Cinema approach. She has also become a rare link between film and visual arts, sensitive to the changes that are taking place between the two arts. Has a Masters in Journalism by the University of Minho, with training in Documentary by Ateliers Varan, France.
Bronte Stahl is a documentary film director from Westerly, RI, USA. Having studied, worked and lived among Rome, Lisbon, Budapest, Brussels, and now Brooklyn, he has come to find place at the intersections of culture. He recently graduated magna cum laude from the European documentary directing MFA program DocNomads. His films deal with encounters with the natural world and have been selected to International Film Festival Rotterdam, DocLisboa, and Uppsala.
Elijah Stevens is a documentary film producer based in Brooklyn, New York. His work explores migration, political geography and grassroots resilience. He has associate produced the feature-length documentaries SKY AND GROUND, THE SEER AND THE UNSEEN, the Oscar-shortlisted documentary short LOS COMANDOS, and others. He is a graduate from Wesleyan University with a degree in Political Science and Latin American Studies. In addition to filmmaking, Elijah is also a community organizer, focusing on issues of immigrant justice.
Nick Tyson is a documentary filmmaker, researcher and writer based in New York City. He has directed and worked on the production of non-fiction projects in a range of mediums, from short films and mobile apps to museum and television documentaries, covering topics ranging from American military history to investigations into serial killers. His documentary practice is primarily archival based, and he's interested in topics related to mass incarceration and the LGBT experience. He is a graduate of Columbia University where he studied film and anthropology.
Nundrisha Wakhloo is a graduate from the creative documentary course at Sri Aurobindo Centre for Arts and Communication, Delhi. Prior to diploma in filmmaking she has done her bachelors in psychology from Gargi College, Delhi University. Cinematography and scripting are the domains that interest her. Passion for designing, art and photography drive her enthusiasm for understanding an image. She has been freelancing on various projects in New Delhi and has recently finished editing videos on migration based in the rural villages of India. Simultaneously she has been involved with her own film research based in Kashmir. Her location film Fragments of our memory was screened at the Unishorts Film Festival in Auckland. Her diploma film Chaaya (From the shadows) has also been screened at various film festivals like the Bangalore International Film Festival, 2016, Kochi Biennale 2017 as part of the 'undiplomatic tales,' a selection of student films from institutes across the country, at the IAWRT Film Festival, 2017 and at Experimenta 2017 as a part of the International competition category.
Liyan Zhao is a visual storyteller working primarily in video. She is especially invested in telling stories of border spaces. Moving from China to the US as a child and growing up near the US-Mexican border, she has experienced firsthand the importance of imagination and mythology as tools of survival in these kinds of liminal spaces. Her most recent short documentary, A House of One's Own, tells the story of immigrant dreams and aspirations channeled through the space of a suburban garage, and has been shown at New Haven International Film Festival and New Haven Documentary Film Festival. Liyan holds a BA in Architecture from Princeton and an MFA from Yale School of Art.