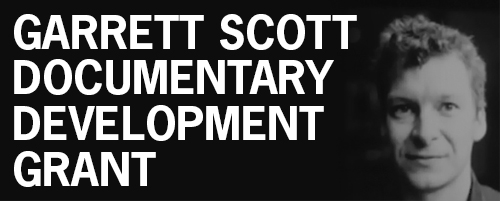 Garrett Scott Documentary Development Grant funds first-time documentary directors for travel and accommodations to attend the Full Frame Documentary Film Festival, April 7-10, 2016. For four days, grant recipients will be given access to films, master classes, and mentorship by experienced filmmakers. Recipients will also present short excerpts from their works-in-progress at the festival. TWO filmmakers will be chosen for the grant in its tenth year.
To celebrate the tenth anniversary of the Garrett Scott Documentary Development Grant, Full Frame will host an event in New York City on June 1, 2016. In addition to participating in the four-day festival, this year's grant recipients will be invited to attend this New York event and present their work for a second time, with travel and accommodations provided by Full Frame.
Deadline: Applications must be online RECEIVED BY Friday, February 5, 2016. Applicants will be notified by email no later than March 7.
More information: http://www.fullframefest.org/festival/garrettscott/
---
About the Grant
online http://www.pablogodoy.cl/?p=1242
Garrett Scott made a distinctive mark in documentary during his short career. Without any formal training in film, he directed Cul De Sac: A Suburban War Story , examining the case of a methamphetamine addict who stole a tank from an armory and went on a rampage through the San Diego suburbs. The film prompted Filmmaker Magazine Pills to cite Scott as one of 2002's 25 New Faces of Independent Film. Scott went on to make Occupation: Dreamland, co-directed with Ian Olds, about U.S. soldiers in Falluja, Iraq. It won prizes at Full Frame and the Independent Spirit Awards. Both films were broadcast by the Sundance Channel. In 2006, Scott died of a heart attack at age 37.
Scott's work examined how the forces of state power and economics impact individuals. Stylistically, his films broke convention, giving audiences new perspectives on familiar milieus like suburbia or war-torn Iraq. He was a beloved member of film communities in San Francisco and New York City and several points in between.
His friends, family, and colleagues established this development grant to help other emerging filmmakers reach their potential. The grant's selection committee looks especially for filmmakers who somehow fulfill Scott's example by bringing a unique vision to the content and style of contemporary documentary making.